FPC Membrane Switch(
Copper Flex Membrane Keypad )
Compared with traditional membrane switches by using the silver paste printed flex as the circuit layer, the FPC membrane switch is made from Polyimide copper etched FPC circuits. Copper flex traces are more durable and stable, which are resistant to high temperatures up to 280°C, the circuit has high precision, output spacing of 0.5mm, low electrical resistance value, high conductivity, stable and reliable performance, and its service life longer than an ordinary membrane switch, ability to solder active and passive components into the switch design.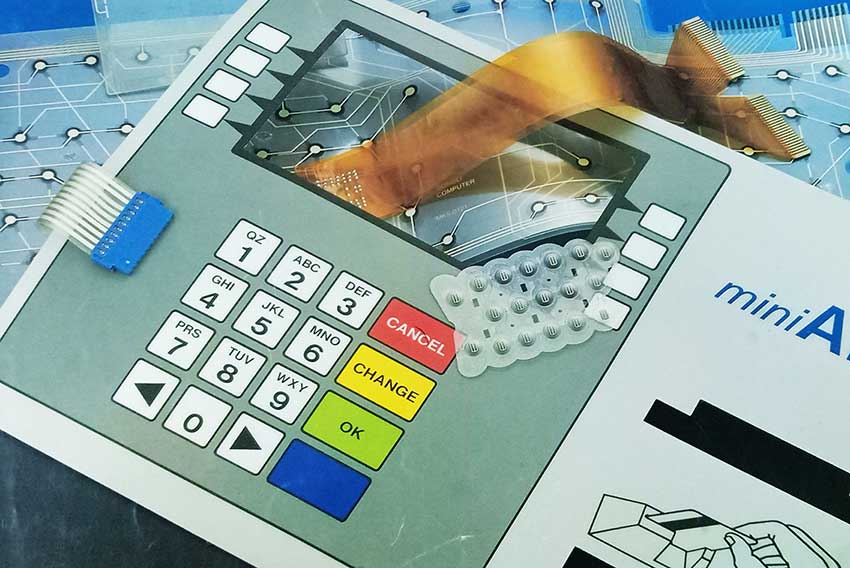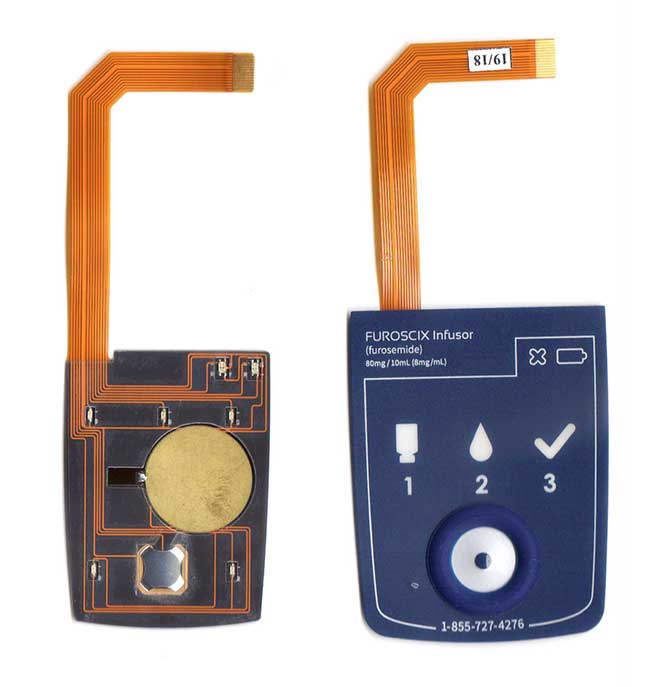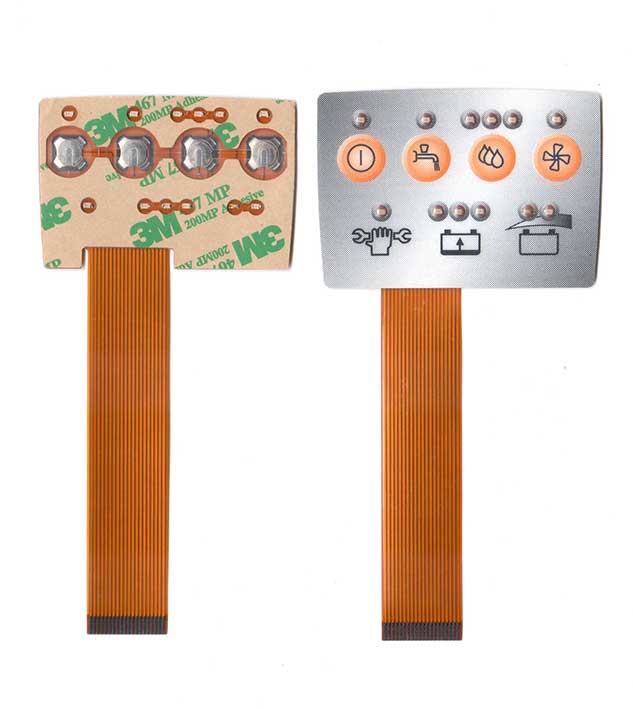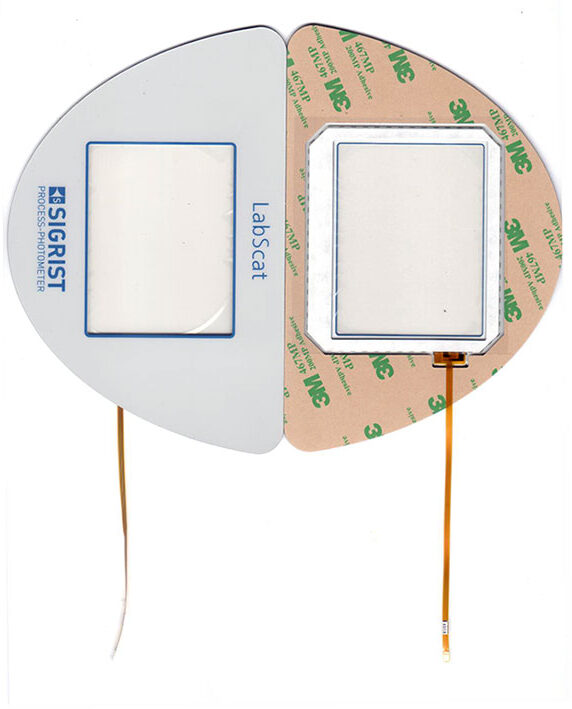 Advantage of FPC Membrane Switch
Lower electrical resistance and higher conductivity: FPC Membrane Keypad Copper traces have far lower resistance, only 20% of the silver circuit.
Achieve a much finer trace width: With the PET silver circuit, the minimum pitch is 1mm, however, the minimum trace width for copper flex is 0.3mm and the pitch is 0.5mm.
Endure High-temperature: The temperature resistance of the flexible printed circuit is better than silver circuitry. FPC can resist high temperatures up to 280 degrees.
Ability to withstand bending, creasing, and vibration: FPC can be bent and folded, which improves the efficiency of the configuration and is able to last for a long period of time.
SMT technology & smaller designs: When dealing with smaller package sizes, footprints, and rugged environment applications, the Copper Flex circuit can fit more components in a smaller area and can accommodate unique functionality and characteristics in the membrane switch. It is ideal for smaller designs where dense circuit patterns or trace routing limitations exist.
Reliability: FPC Polyimide circuits use a soldered connection that can be up to three times as strong as the conductive glue. Electronics components soldered on FPC are more reliable than those glued on silver circuitry.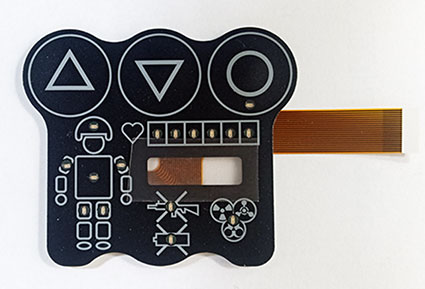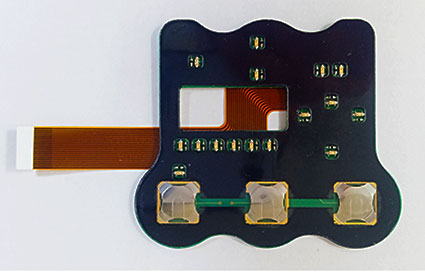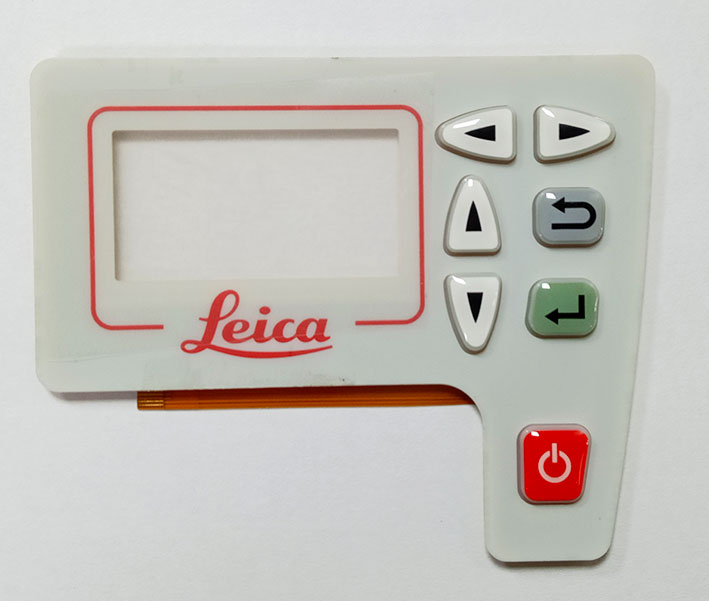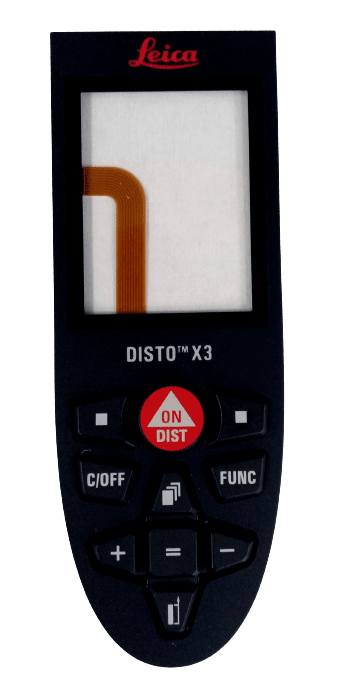 FPC Membrane Switch design options:
Single-sided – conductive traces one side copper of the film substrate
Double-sided – conductive traces both sides copper of the film substrate
Rigid-Flex – a laminated combination of a Copper Flex switch with a rigid FR4 PCB membrane switch
Solder active and passive components into the switch design
FPC+MEMBRANE SWITCH+ RUBBER KEYPAD
FPC+MEMBRANE SWITCH+TOUCH PANEL
PCB+MEMBRANE SWITCH
WATERPROOF MEMBRANE SWITCH
Possible pitch 0.5mm and 0.3mm for ZIF connector
Plating options can be tin, nickel, or gold
Waterproof Membrane Keypad
For waterproof membrane keypads, we can design a waterproof frame on the membrane keypads to prevent the water from going into the circuit. We also can use a rubber keypad to wrap the PCB circuit and use seal the connection circle.
MKS manufactured waterproof membrane keypads that can meet IP67 and NEMA-4 waterproof standards. Our complete set of reliability testing and environmental testing equipment includes the salt spray test, waterproof test, buttons life test, temperature, and humidity test, to assure our manufactured keypads quality
MKS is an ISO9001, ISO14001, IATF16949 certified factory, which can provide you with high-quality membrane keypads for your special using environment.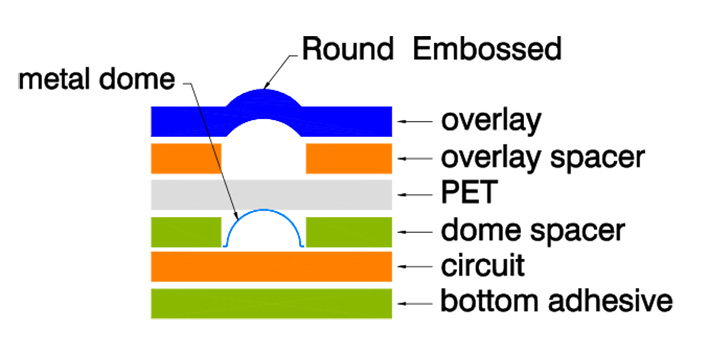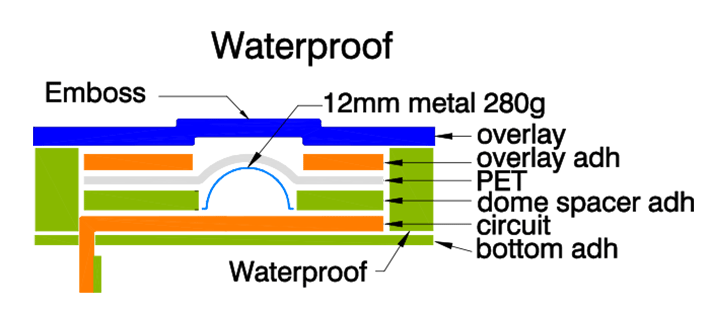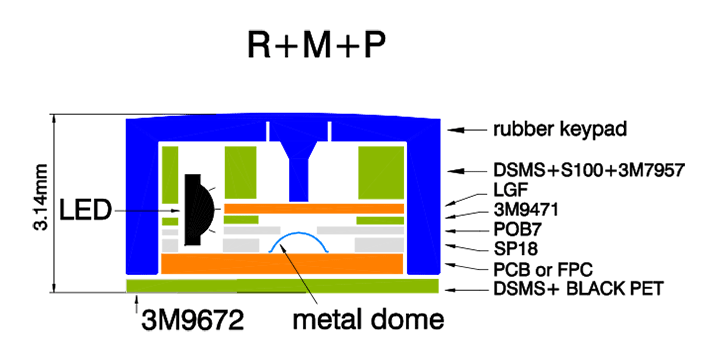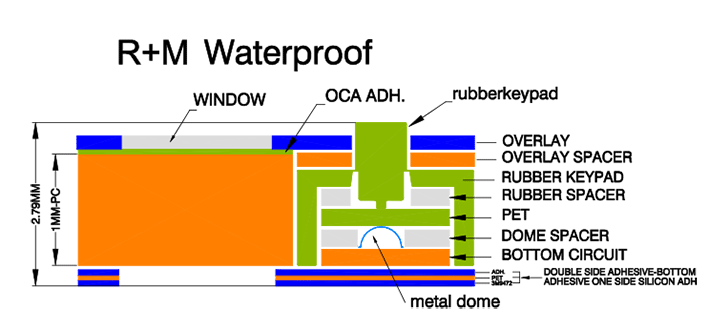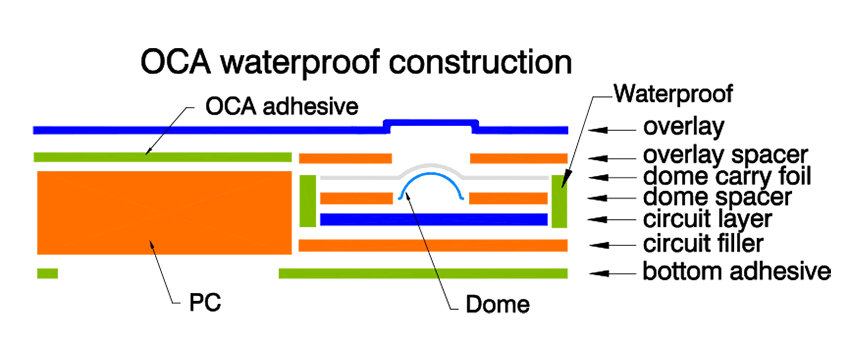 Specifications:
Electronic characteristics:
Operation Voltage:  35V (DC), 100 MA
Operation current: < 100 MA
Contact resistance: 10 Ω ~ 100 Ω (varies according to the length and material of outgoing line)
Open circuit resistance: > 10 Meg Ω
Dielectric withstand voltage: no breakdown or flashover after 250V RMS (50-60Hz 1min) test
Contact jitter time: ≤ 5ms
Life expectancy: life: 5×105 to 3×107 cycles
Touch-type: ≥ 1 million times
Mechanical properties:
Operating force: plane type 30g ~ 500g
Tactile type: 170-397g (6-14oz)
Switch stroke: plane type 0.1 ~ 0.5mm
Touch-type: 0.6 ~ 1.5mm
Environmental parameters:
Operating temperature:  – 35 ℃ ~ + 80 ℃
Convex type: – 20 ℃ ~ + 60 ℃
Storage temperature: plane type (including shrapnel) – 45 ℃ ~ + 90 ℃
Convex type: – 40 ℃ ~ + 60 ℃
Humidity: 40 ℃, 90% – 95%, 240 hours
Different kinds of membrane switches will have different specifications.
The specifications list above is for reference. For more details, please contact us.