Rigid-Flex PCB is designed to provide solutions, and act as replacements for rigid PCBs. The advantage of this type is that they exhibit the benefits of both rigid as well as flexible circuit boards. Because of the combination of HDI technology and the trend of high-frequency signal development, the use of rigid-flex PCBs has become more widespread. Traditionally, FPCB are combined with rigid PCBs by using a connector or a hot bar process to connect two rigid PCBs with one FPC. The combination of rigid PCB and flex PCB board is a combination of rigid PCB → FlexPCB → rigid PCB to transmit the signal, the transmission distance is shortened and the speed is increased, which can effectively improve the reliability.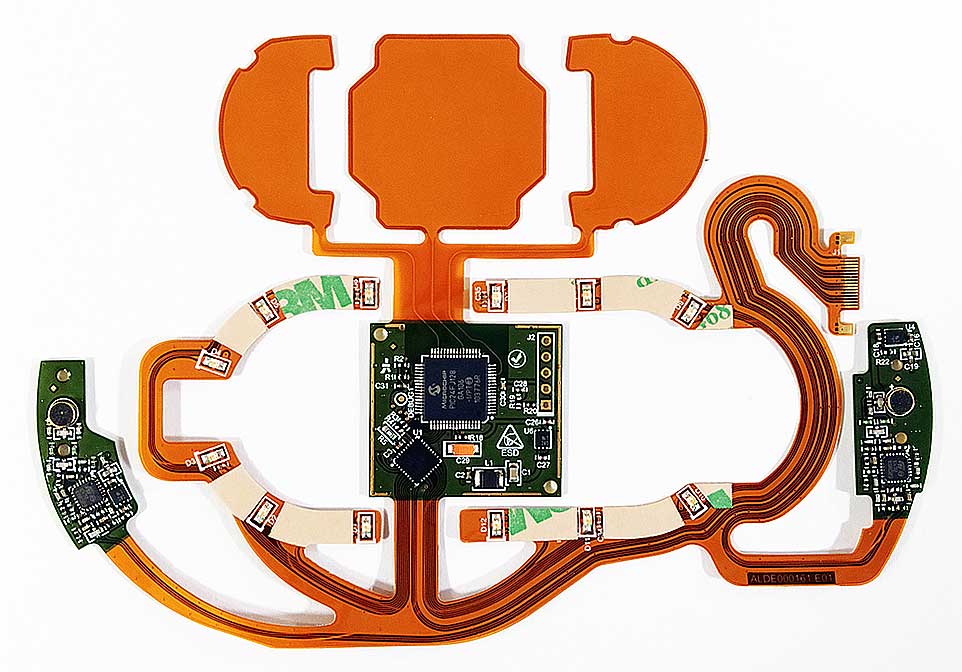 Advantages of Rigid-Flex PCBs
The combination of these two circuits makes it an extremely beneficial product for both applications as well as customers.
Survive High-shock and High-vibration environments:

Rigid-Flex PCBs are quite flexible. The flexible parts can easily absorb shocks from the other parts of PCBs. Thus, in applications where there are high level shocks and vibrations, Rigid-Flex PCBs are excellent. 
Lightweight & High Reliability: Rigid flex technology enables manufacturers to miniaturize their products, and reduce their weight, while improving device reliability.
Dynamism

: 

Flexible circuits give you unlimited freedom of packaging geometry while retaining the precision density and repeatability of printed circuits.
Mechanical Stability: The interchanging layers of circuits form a strong foundation. The rigid boards provide stability, while flexible boards provide the flexibility required for installation in small spaces.
Space and Money Savings: The use of rigid-flex circuit boards can result in immense reduction in total PCB costs and expenditures.
Security: It provides secure connections for other components, providing stability and polarity. It also helps to reduce the number of connected components in an application.
Other common benefits include flexible design options, high circuit board density, high heat dissipation, and excellent resistance to chemicals, radiation, and ultraviolet rays.
Applications of Rigid-Flex PCBs
The various advantages of design, function, and application, makes rigid-flex PCBs the optimum solution for commercial and industrial applications, which require powerful components that can fit into small sized applications.
Rigid-flex circuit boards can be found in commercial as well as industrial applications. These can range anywhere from electronic devices, to high grade aircraft mounted weapon guidance systems.
Rigid-flex PCBs are a sought-after solution for industrial applications. They are mainly used in military, aerospace, and medical devices, as they can reduce the product's weight. This enhances the device's performance to a great extent. Rigid-Flex circuit boards also support construction of devices at feasible rates. This is due to their low weight and small size.
Other examples of rigid-flex PCBs applications include:
Cell Phones

CT Scanners

Smart Jackets

Pacemakers

ABS Sensors

Digital Cameras

Computer Servers

USB and Ethernet

Bar Code Scanners
Rigid-Flex Capabilities with MKS
MKS With more than 40 years of manufacturing experience in Flex PCB, the MKS are providing the latest Rigid-flex PCB manufacturing technologies and highest quality standards for the electronics industry. Our highly skilled R&D engineer team can assist you from early Rigid-Flex design stages of your application all the way to final production for all your FPCB and Rigid-flex circuit needs.We have excellent Quality Management Systems, finely tuned processes, and the experienced employees to deliver defect-free, high-quality and highly-reliable electronic packaging solutions for your project. For more information about Flex PCB or Rigid-Flex PCBs for your application, contact us immediately to learn more.
9.8" x 20"(250mm x 520mm)

9.8″ x 11.8″(250mm x 300m)

White, Black, Blue, Green, Red

Legend / Silkscreen Color

Immersion Gold, HASL, OSP

MIL-PRF-55110, MIL-PRF-50884,

MIL-PRF-31032, IPC-6012,6013

Minimum Drill (Mechanical) Hole Diameter

Copper, Silver Ink, Tatsuta, Carbon