TO satisfy our customers, MKS has implemented the ISO9001 and IATF16949 quality system to guarantee the quality of FPCB, Membrane Switch, and other products. Our QA system and various inspection equipment help us to monitor the whole production process, assuring the stability of the process and product quality, meanwhile, advanced instruments and technology methods have been introduced to attain sustained improvement. There are many advanced inspection and test instruments in MKS, which assure products reliability of finished products. Our products comply with UL safety certification 94V-0. Our UL number is UL-E200944. All our PCBs meet a flame rating of 94V-0 and satisfy all UL requirements. The flame rating per UL 94 defines a polymeric part's resistance to fire.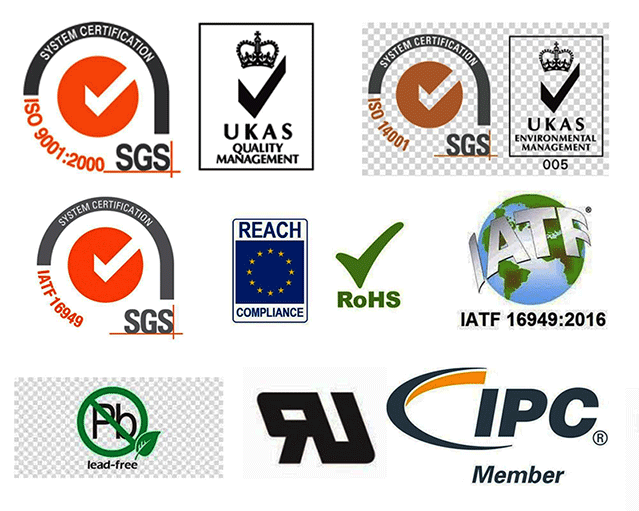 MKS  CORP. CERTIFICATIONS
ISO 9001:2015 QUALITY MANAGEMENT SYSTEMS

ISO 14001:2015 

ENVIRONMENTAL  MANAGEMENT SYSTEMS
IATF 16949:2016 Automotive Quality Management Systems
UL Certified: UL No. E200944
RoHS / REACH Compliance Material Composition Declaration
Conflict Minerals Reporting Template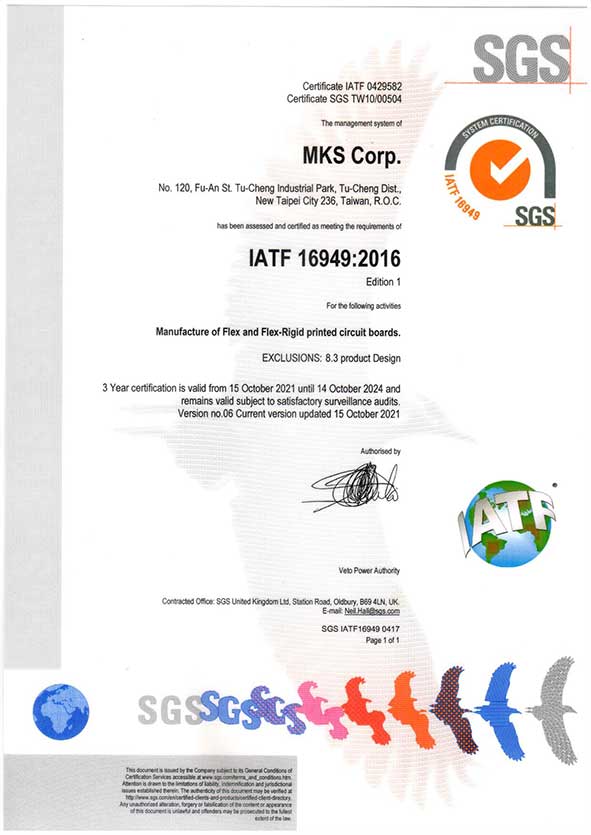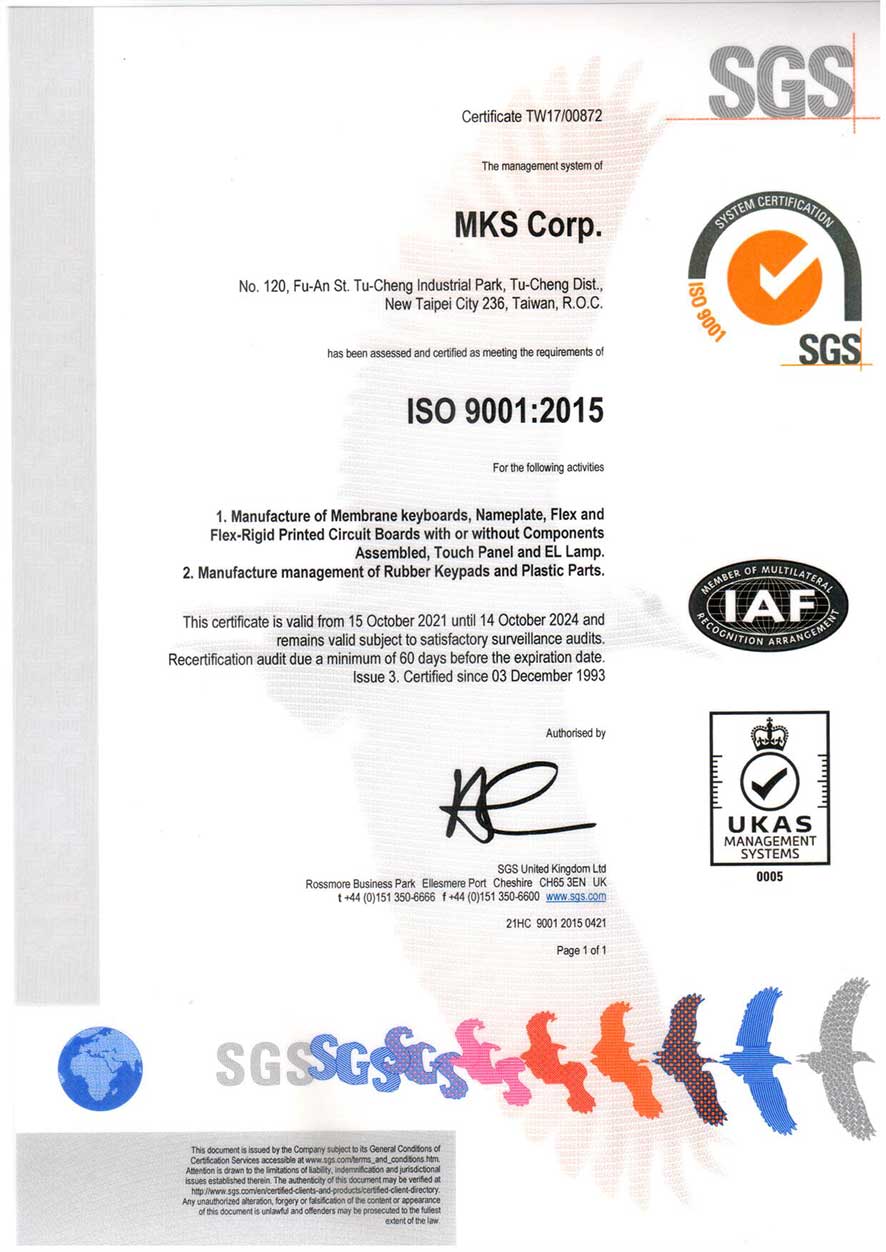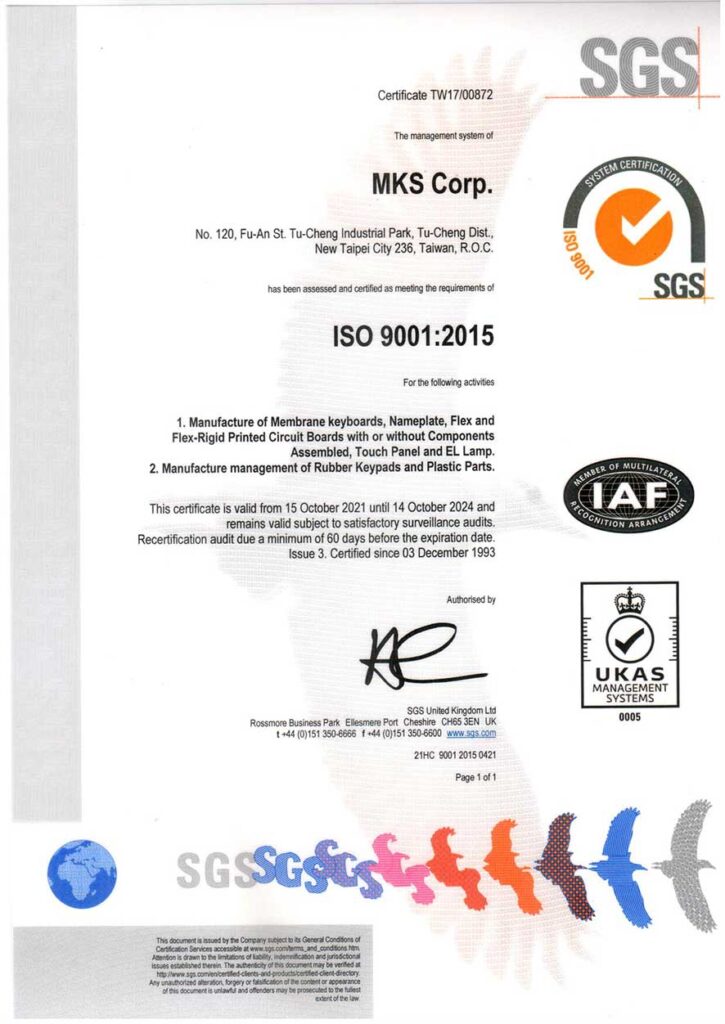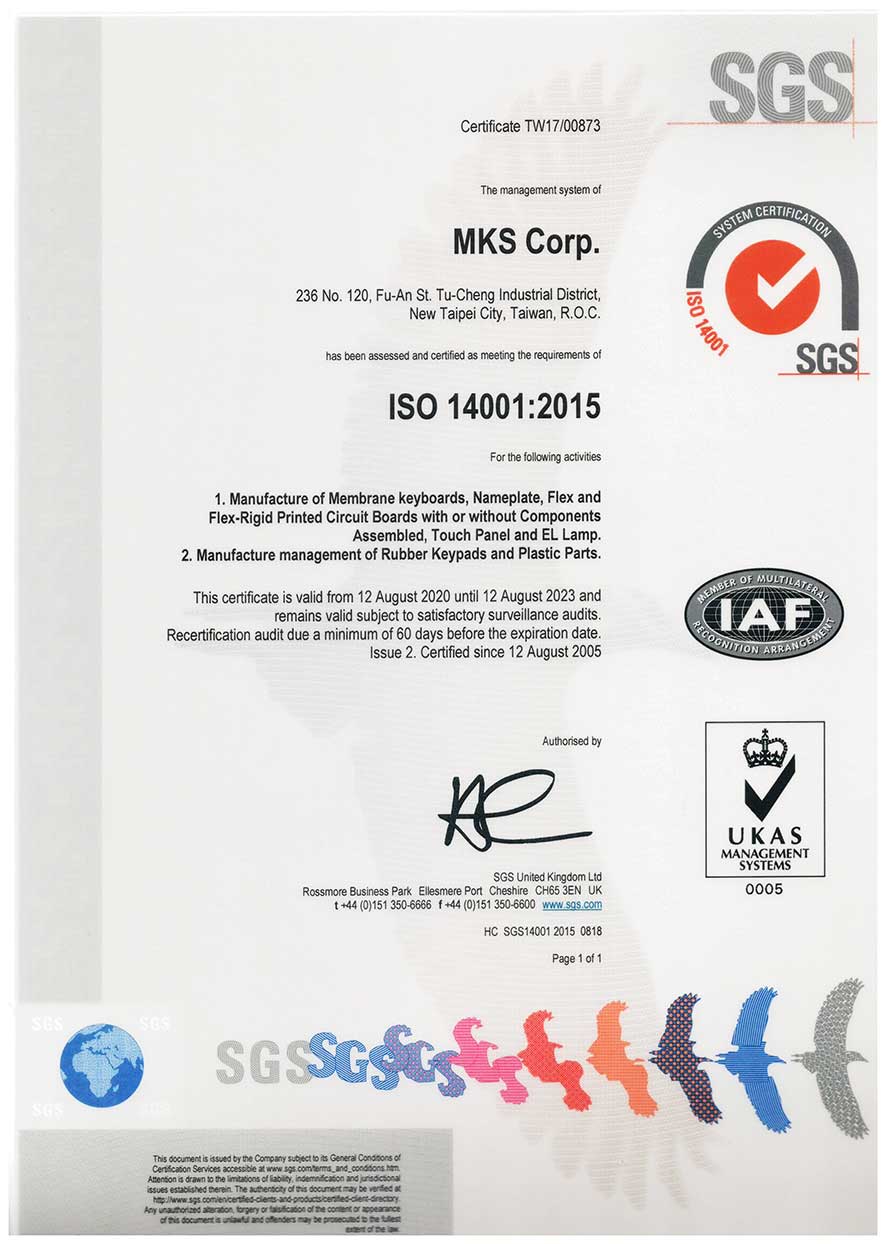 Environmental Policy 
We are a professional manufacturer of membrane switches, flexible circuit boards, touch panels and conductive rubber keypads, and since our founding in 1982, we have been committed to forming a quality partnership with our upstream suppliers and customers, providing a good working environment for our employees, fulfilling our corporate responsibility for environmental protection, and providing a better living environment for all creatures on this green earth and our future generations. "Save, reduce waste. We are committed to the environmental policy of "saving, reducing waste and complying with laws and regulations" and implementing the ISO14001 environmental management system.
We are committed to achieve the requirements of ISO14001 environmental management system:
Comply with environmental regulations; respond to green environmental protection

First priority pollution prevention; saving treatment cost

Make the best use of limited resources; practice resource recycle.

Encourage all employees to participate; to do a good job in environmental protection

Commitment to continuous improvement; ensuring sustainable operation
ROHS COMPLIANCE    
In response to the rising awareness of environmental protection around the world, the governments of various countries have been enacting laws and regulations related to environmental protection and restricted substances. Based on our obligation to environmental protection and in order to comply with the regulations related to restricted substances (such as the EU RoHS & WEEE directives) and the standards set by major international manufacturers, we have developed a specific green supply chain system in the hope that our products can comply with the EU RoHS-related regulations. We also hope that all of our suppliers will grow with us and take responsibility for protecting the global environment. The environmental policy declared by our company is open to the public.
Conflict Minerals Statement
MKS is committed to investigate suppliers to ensure that their kind of metal gold such as (Au), tantalum (Ta), tungsten (W), cobalt (Co) and tin (Sn) are not through the anarchist army or illegal group, by the mining of the democratic republic of Congo conflict zones or follow illegal smuggling route. In addition, the following countries exports of metal are not conform to the "no conflict rules": DRC, Rwanda, Uganda, Burundi, Tanzania, Kenya, the UN Security Council decided that these countries are Congo vein minerals). Follow the electronics industry code of conduct (EICC), and other organizations related investigation procedure, to ensure its metals procurement process conforms to the social and environmental responsibility.