MKS CORP. Is committed to providing excellent quality, Competitively priced products, and  best delivery and service. Our quality policy "We satisfy our customers with excellent quality and service!" And have incorporated a high quality culture into our core business to meet customer expectations in order to achieve our vision of "a world-class company with high added value, high quality, high productivity, and an emphasis on innovation and service".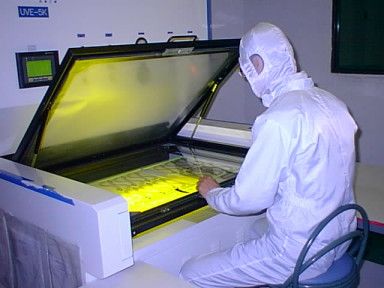 QUALITY POLICY
" We satisfy our customers with excellent quality and service! "
Quality Policy Statement.
 This quality policy is appropriate for our company.

 Clearly position the quality management system structure and adopt process orientation to obtain the results of process performance and system effectiveness.

Commitment to continuous improvement and correction, prevention to improve product quality.

Commitment to comply with customer and related regulatory requirements and continuous monitoring of customer satisfaction.

Commitment to ensure the applicability, appropriateness and effectiveness of the quality management system through quality policies, quality objectives and management review.

Commitment to ensure the availability of resources and establish effective communication channels.  
QUALITY OBJECTIVE – External Defect Rate : MAX. 0.25% of Outgoing Quantity
QUALITY ASSURANCE PROCEDURE
In order to achieve the Quality Policy and Objective, MKS has been devoted to rationalize and standardize all procedures according to ISO9000 Quality Systems.
All of the QUALITY ASSURANCE PROCEDURES must be documented, understood, implemented, and maintained for these coordinate activities by all employees.
INSPECTION STANDARDS AND ITEMS
Inspection Standards and items about Incoming Inspection., In process Inspection., Assembly methods, Packing, and Outing Inspection., should be according to the CUSTOMERS'S Contract, INTERNATIONAL STANDARD TEST METHODS & ESTABLISHED PRACTICE.
Each commodity has its own INSPECTION STANDARD individually.
Outgoing Acceptance of Quality Level

MIL-STD-105E SAMPLING PLAN NORMAL LEVEL(II)
Critical defect – 0.4% (4,000 P.P.M)
Major defect   – 0.65% (6500 P.P.M)
Minor defect  – 1.00% (10,000 P.P.M)
C = 0 PLAN   –  1.50% (option)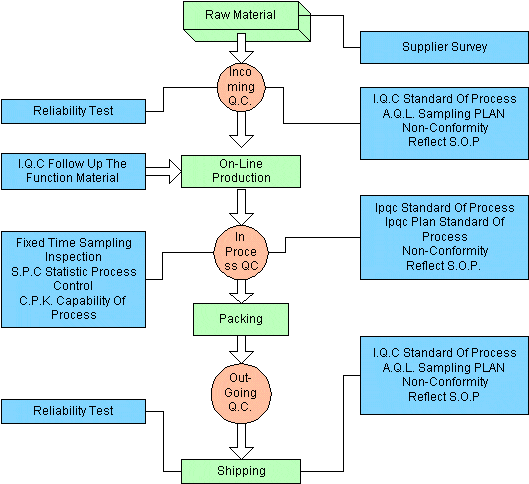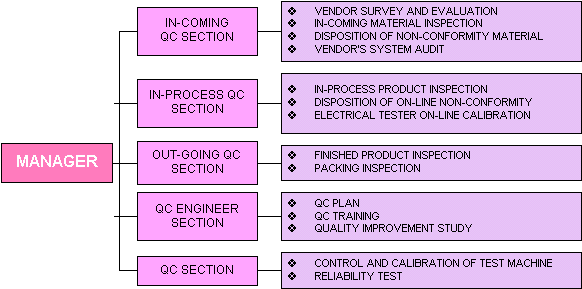 QC PROBLEM DISPOSITION
1. GENERAL STATEMENT
 We implement a systematic Nonconformity Disposition and Corrective Active, as soon as indications appear that raw materials, in-process components or completed products may not or do not meet the specified requirements.
2. FOR RAW MATERIALS
We will return any rejects to the supplier enclosing "Vendor Corrective Actions Request Form" (VCAR), and ask or replacement or compensation if defects relate to the raw materials.
3. FOR IN-PROCESS COMPONENTS&COMPLETED PRODUCTS
            3.1 Disposition procedure

Suspected nonconforming items or lots should be immediately identified by qualified persons, and the occurrences should be recorded. 
Nonconforming lots should be 100% sort & classified.




Defects should be marked "X" and put in the "RED Basket" depart from the good.
Analyze the causes feedback for the operator to review the caused factors.
Determine whether can be used as they, repaired, reworked, or scrapped.
Re-inspect in stock and recheck the spec., operation standard procedure, manufacturing methods… etc.




Take skill-improving training.
        3.2 Documentation
Manufacturer Department IPQC REPORT

A. Department Nonconformity corrective request.(NCR)

A. Department Outgoing Inspection Report

Engineering Department ENGINEERING CHANGE (REVISED) NOTICE.
4. FOR CUSTOMER COMPLAINTS
As soon as receiving customer's rejects and documents, Sales Department will check the order number, order date.., briefly describe nonconformity found by customer, and issue a "CUSTOMER COMPLAINTS CORRECTIVE REQUEST"(CCCR) to Q.A. Department.

A. Engineers will recheck in details to identify the causes, and send them to responsible sector for reviewing & corrective actions, then make conclusion feedback to the Sales Department to respond to customers.
PRODUCT QUALITY AND TRACEABILITY 
 1.  Manufacturing processes are documented and controlled through manufacturing assembly procedures
 2.  Quality records for electrical test and final assembly, test are identified to part number and lot
 3.  Product labeling typically includes part number, revision, date code and regulatory information.
 4.  Quantifiable color matching and color controls via spectrophotometer.